Hand Dryers Vs Paper Towels
Hand dryer or paper towels? If you're looking to install a hand drying device in your workplace, or if you are a contractor completing a project, this is a question you've probably asked. Both methods of hand drying are proven to be effective, however they do have their pros and cons. Mostly, it is down to the individual's personal preference or making a choice based on factors such as environmental impact, cost and hygiene. To help you establish whether there is a winner in the hand dryers vs paper towels debate, Washroom Hub has outlined some of the benefits and downfalls of each below, so you can make an educated decision before you invest:
Hand Dryer vs Paper Towels - Environmental Impact
If you are looking to choose the most environmentally friendly hand drying method for your workplace, Washroom Hub has done the research for you. When it comes to evaluating hand dryers vs paper towels, environmental impact is a significant consideration. Generally, it is accepted that modern, cool air jet hand dryers are more eco-friendly per use than paper towels (ABC, 2018). Powerful, contemporary jet air hand dryers work quickly, propelling water off with air power, rather than evaporating water from the hands, and as a result only using a small amount of energy per use.
Although, it could be argued that using recycled paper towels is an environmentally friendly alternative. However, when the amount of landfill generated by paper towels is considered, the fact that once they are used as paper towels they can't be recycled further and the energy used for transportation is taken into account, the hand dryer is the clear winner (ABC, 2018). Even if a hot-air hand dryer is chosen which uses more energy, when compared to using an average of two hand towels per use, less carbon emissions are generated from the hand dryer (StanfordMag, 2010). From the evidence presented to Washroom Hub from research, it became clear that eco-friendly hand dryers like low energy jet dryers are the way forward, as they result in significantly less carbon emissions than paper towels. Based on this evidence we have a number of suggestions available to ensure you are presented with eco-friendly hand dryer options at varying price points. A budget option would be the Airsenz i-Force Jet Hand Dryer in Brushed Aluminium, which allows the user to select the setting of cool air to blast water off the hands. This style of hand dryer would be perfect for lower to medium traffic areas, due to its compact size. Alternatively, the Biodrier Executive Blade Hand Dryer is a great option for high traffic areas. Using cool air power to propel water off users hands, this hand dryer is also designed with an integrated catchment area, so pools of water don't form on the ground as a result of heavy use, thereby proving itself to be a safer option.
Hand Dryers vs Paper Towels - Cost
When it comes to choosing a hand dryer or paper towels for your project, for most people, cost is a significant driving factor. On average, paper towels are the more expensive option, as they cost approximately two to three times more per month than warm air hand dryers and up to 20 times as much as a powerful cool jet air hand dryer (Science-Based Medicine, 2018). There is also the chance that paper towels are disposed of down toilets which could result in clogging and hefty plumbing bills. However, there is additionally the up-front costs or maintenance of hand dryers which isn't incurred with paper towels to take into consideration, so depending on the level of usage you expect to see, a paper towel dispenser might be a better option within an office or workplace. In the debate of paper towel versus hand dryers, with high quality, low energy hand dryers available at a budget price, the usage of hand drying equipment must be minimal to justify choosing paper towels over hand dryers.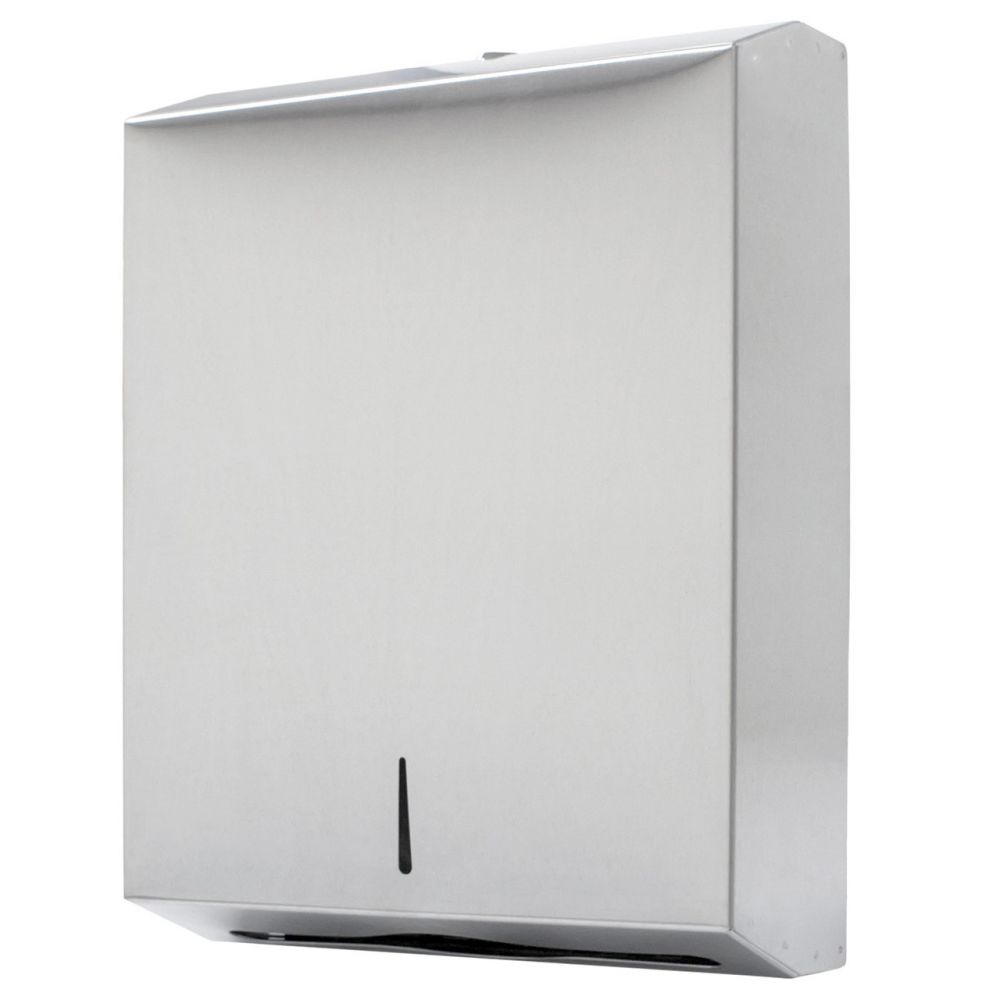 Hand Dryers vs Paper Towels - Hygiene
A question that is popping up more and more is, 'are hand dryers hygienic?' A controversial subject, however, we have looked into this in depth to find you the answer. Paper towels are often hailed for their hygienic properties. However much of this is down to not properly drying hands when using a hand dryer. Many people do not allow enough time to dry their hands effectively with a hand dryer, resulting in damp hands which pass along bacteria and germs more easily (StanfordMag, 2017). Paper towels on the other hand have always absorbed moisture quickly, meaning that hands have traditionally dried more quickly through this method, resulting in lower transmissions of bacteria and viruses. So, if hands are given sufficient time under a hand dryer, they will be dried just as effectively as if paper towels were used, resulting in lower transmissions. It also has been reported that hot air hand dryers harbour and grow bacteria within their warm environment, and that cool air dryers blow around germs and bacteria (ABC, 2018). This is particularly pertinent if hands aren't washed correctly in the first place. The more bacteria and germs that live on hands, the more likely they are going to be blown around (ABC, 2018). So, no matter what hand drying method you use, the important thing to remember when it comes to hygiene is to wash your hands correctly. Even with this information in mind, it might be easy to reach the conclusion that paper towels are the most hygienic option available. However, with modern technology such as the Biodrier Executive Blade Hand Dryer this theory is challenged as there are safe and hygienic alternatives to rival paper towels. The Biodrier Executive Blade filters air through a triple HEPA Grade 13 filter, removing 99.9% of all airborne particles and drying hands in under 10 seconds. It contains an antibacterial UV light to eliminate bacteria and has an anti-microbial coating to ensure there is minimal transmission of viruses in the case of accidental contact. With technology such as this available, there is little reason to choose the paper towel over the hand dryer on a hygiene basis in the hand dryers vs paper towels debate, so the choice is ultimately down to the individual. If you are looking for more ideas of how to secure your workplace against viruses and bacteria, visit How to Create a COVID-secure Workplace.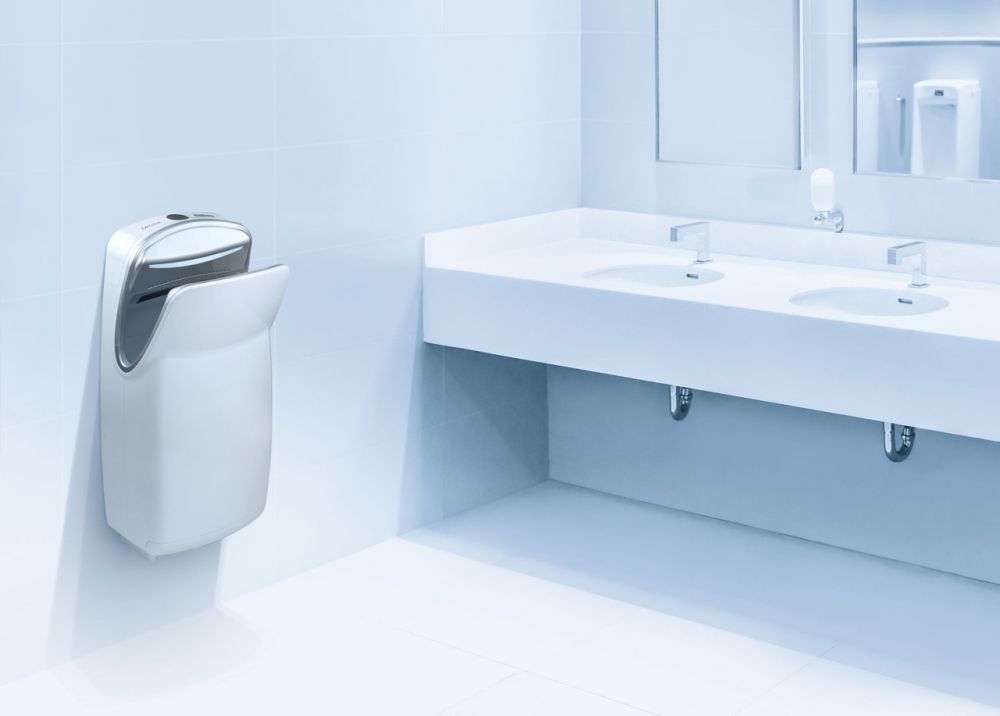 So, are hand dryers better than paper towels? Combining all influencing factors such as the environmental impact, cost and hygiene levels of both hand dryers and paper towels, our conclusion at Washroom Hub is that for settings with high to medium traffic levels, a hand dryer such as a Biodrier Executive Blade Hand Dryer should be chosen instead of paper towels. This particular model of hand dryer offers everything from environmentally friendly usage, low running costs and the elimination of germs and bacteria. For low use areas such as small offices with only a couple of employees, we recommend either a hand dryer with a cool air jet or a paper towel dispenser. Paper towel dispensers are recommended for small businesses if you are working in a particularly sensitive area such as medicine or food preparation and need to be careful about virus and bacteria transmissions, whilst still keeping your costs down. For more information and advice on your washroom needs, make sure you visit our blog.